Welcome To Our Dental Practice
Quality Dental Care that's right for you. We pride ourselves by providing the best dental technology and passion to our craft to every patient walking in the door.
View Our Latest Reviews
Family Dentistry in Redlands, CA
Welcome to our office located near the beautiful and quaint heart of downtown Redlands.
We are a small private dental office that prides ourselves in providing individualized personal attention for all your dental needs.  We only book one patient at a time, ensuring that Dr. Wang can focus on you from the start to the very end of your procedure. This allows each and every one of our dental patients to receive superior dental care.
Our primary goal is to educate you on preventive dentistry. We feel the more you know about your oral health the more you have control over the prevention of dental problems like decay and gum disease.  Patients who regularly visit our office for their scheduled exams and cleanings rarely need any dental work.  With the use of the most advanced dental technologies, such as digital x-ray and the intraoral camera, we can show you so much of what is going on inside your mouth that you never realized.  With digital x-rays we can diagnose cavities that have just started to form and recommend ways to possibly reverse or stop its progress.  Early intervention is key!  With the use of the intraoral camera you can finally see what Dr. Wang sees. Dr. Wang's core value is that she will never recommend any treatment for you that she would not do for herself or her own family.  When you are in our office, you will be genuinely cared for like a family member.
Our family dental practice delivers care to patients of all ages. We focus on a conservative approach to dentistry. We work with a team of very skilled specialists to ensure you receive the very best dentistry has to offer.  We are committed to delivering the best quality of dentistry with the most state of the art dental equipment and trusted dental materials. We provide you the knowledge to make an educated and informed decision for your dental health needs. We want you to be in control of your oral health and we want to be the team that guides you.
Dr. Wang is committed to all of her patients.  She understands that even with preventative care emergencies can happen.  She is available 24/7 to address any of your dental emergency concerns.
Call us today!
"*" indicates required fields
Dental Services
Regular dental care is the key to keeping your teeth healthy and beautiful throughout life.  We provide a full range of dental services and care for patients of all ages. 

Exams & Cleanings
Periodontal (Gum)

Root Canals
Oral Surgery

Crowns
Veneers

Composite (White) Fillings
Crowns & Bridges

Partials & Dentures
Dental Implants

Night and Sport Guards
Teeth Whitening
Meet Our Team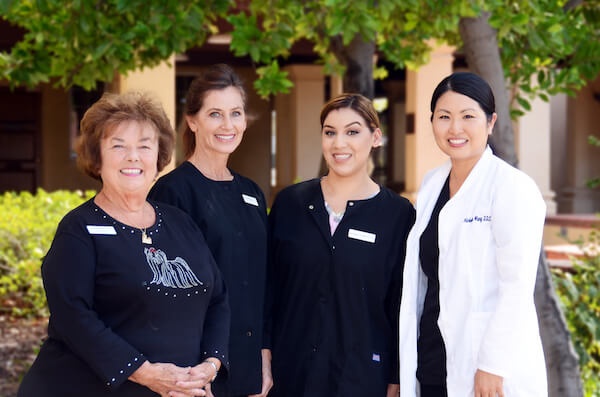 When you visit our office, expect to be treated with care by our friendly and welcoming team.  We are here to help you from your first phone call to our office to your continuing care and any emergencies that you may have – we will be there for you every step of the way.  Every member of our team is committed to providing you the best quality and experience in dentistry.
Our Location
Michelle Wang DDS
232 Cajon Street, Suite B
Redlands, CA 92373
(909) 792-1618
Email: michellewangdds@gmail.com
Office Hours
Tuesday: 8am-5pm
Wednesday: 8am-1pm
Thursday: 8am-5pm