There's nothing like a warm welcoming smile.  But many people are too embarrassed to even crack a grin because of their teeth.  That can be a subtle habit or a big worry, but either way there's no need to be self-conscious.  After a thorough evaluation, our cosmetic dentistry services can give you the very best dental appearance for a winning smile. A radiant smile means a boost in self-confidence, adding to those all important first-impressions in your professional as well as personal life.
Our practice is experienced in many procedures, including all-porcelain crowns, composite fillings, porcelain veneers, and teeth whitening.  Don't be reluctant or embarrass to show your pearly whites. In just a few dental visits we can make everything from subtle changes to correcting major conditions in order to give you that beautiful and confident smile you've always wanted.
Our Cosmetic Dentistry Services
We firmly believe that everyone is unique and deserves personalized treatment.  Our extensive training and experience means that we can determine the best procedure for your particular conditions and objectives.  We will be happy to discuss the treatment options with you, including the pros and cons for each option, as well as the resulting appearance, the treatment experience, what each procedure entails and dental care after the procedure.
Teeth Whitening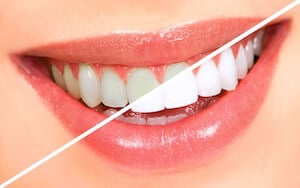 Teeth whitening is the most common cosmetic dental procedure.  Teeth whitening uses an oxygenating (bleaching) compound to lighten tooth color, including lessening or eliminating embarrassing yellowing, browning, and spotting that comes with staining and simply aging.  Our custom treatments are faster and far more effective than over the counter remedies.  A dentist's training, skill, and experience means that they can use more powerful agents for long-lasting teeth whitening that's actually safer with no harm to teeth or gums.  Learn More
Composite Fillings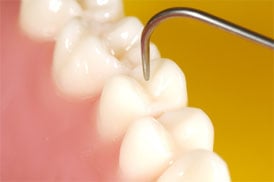 Composite fillings are very versatile.  We can use composite fillings to treat decay as well as to restore chipped teeth, closing space between two teeth, repair broken or fractured teeth, and to repair defects or minor discoloration in teeth.  Composite fillings are made of resin and filler materials that are available in many shades.  We will closely match the composite to the shade of your tooth so that the fillings are virtually unnoticeable in your mouth.  Learn More
Porcelain Veneers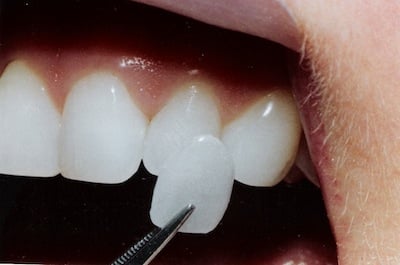 Veneers (laminates) are a thin shell of porcelain bonded to the front surface of teeth to completely hide imperfections.  Porcelain veneers provide the best combination of appearance and durability.  We possess the high degree of technical skill and experience required to provide the very best appearance and longevity and use only the highest-quality porcelain veneers.  We can hide almost any flaw in your teeth – chipped, stained, unsightly gaps, peg like teeth. In some cases veneers are an alternative to dental crowns because they are more conservative.  Porcelain makes them virtually undetectable because we can match the color of your natural teeth or make them whiter, and is highly resistant to staining.   Learn More
All Porcelain Crowns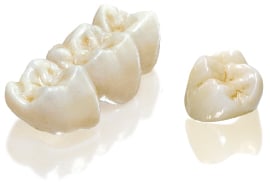 Crowns, also called caps, cover a tooth to restore its shape, strength, and appearance.  Crowns are frequently used when a tooth has a large cavity, chip, or crack and are normally required to replace the exposed top part of a tooth after a root canal or implant. They may also be used to treat weakened teeth, as an anchor for bridgework, or to improve bite. All porcelain crowns have the most natural look of the various options.  In cosmetic dentistry, crowns are also used to change the shape and/or color of a tooth.  As with veneers, all porcelain crowns are durable and their color will be matched to nearby natural teeth. Learn More