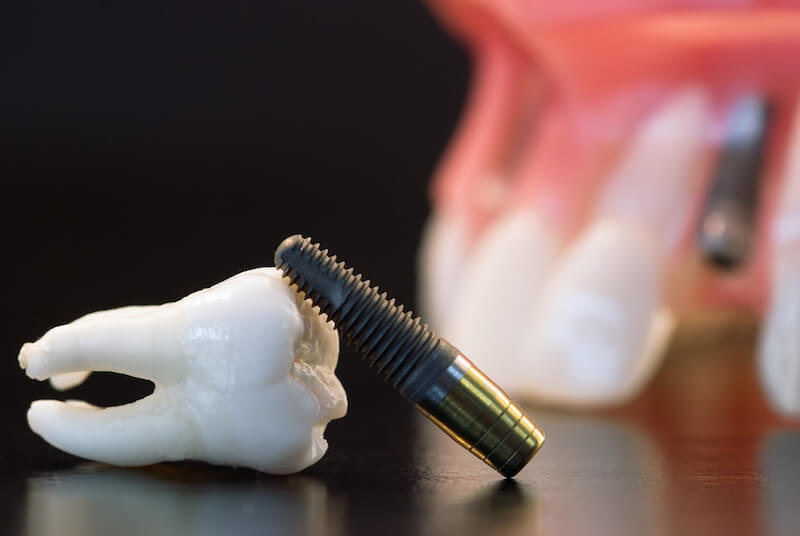 One of the best solutions for addressing missing teeth (or teeth that will eventually need to be removed) is the dental implant. Dr. Michelle Wang has treated patients with dental implants for years and understands all the nuances to maximizing their comfort. If you are looking for a solution that offers the longest longevity and best replacement for natural tooth, dental implants might be the perfect solution.
How Dental Implants Work
Dental implants substitute for the roots of teeth. The base of the implant is tapered cylindrical posts usually made of titanium. Connectors are placed on the top so the implant can be connected to an artificial porcelain tooth. Above this rest a cap (or crown) which protects the rest of the implant.  Dr. Wang uses dental implants to help patients restore the appearance and functionality of their teeth.
Before having an implant done, make sure you are using a credentialed expert who knows all about implants. The implant must be placed directly in your jawbone, so it will fuse naturally with your bone during the healing process.
Dental implants can be very challenging, so you want to choose a dentist who will use caution when placing implants to avoid failure or complications. To ensure you are well cared for, make sure you choose a dentist that has additional education and undergone specific training pertaining to dental implants.
If you have missing teeth or teeth that cannot be repaired, dental implants can give you the beautiful smile that you have been missing. If you are interested in learning more about dental implants, call Michelle Wang DDS. Dr. Michelle Wang believes in ensuring each dental implant procedure is done right the first time.